LOAD RESTRAINT
This non-accredited course is run to the National Transport Commission's Load Restraint Guide 2018. It provides direction on meeting the performance standard and the legislative loading requirements that apply in South Australia, New South Wales, Victoria, Queensland, the ACT, and Tasmania.
MANUAL HANDLING
The objective of this course is to prevent the occurrence of injury and reduce the severity of injuries resulting from manual handling tasks.
It includes assessing the risks associated with relocating the load, planning the process and carrying out the relocation in accordance with the plan.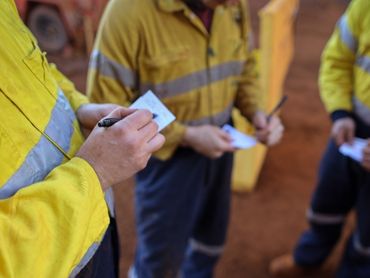 HAZARD AND RISK AWARENESS
This non-accredited course has been designed to improve the skills and knowledge required to identify, assess, eliminate or control the safety risks of hazards in the workplace, via the use of appropriate risk assessment tools and documents in line with organisational procedures.
– WHAT PEOPLE ARE SAYING –
A WORD FROM OUR CLIENTS
Extremely relevant to our scope of work
The load restraint training was extremely relevant to our scope of work using trucks, trailers and utes carrying loads to complete our field operations. The course was clear and highlighted the fundamentals of load restraint whilst also ensuring compliance. The collaborative environment made all personnel feel comfortable in raising case scenarios and finding solutions. Thanks to this course, we were able to implement many improvements within our fleet operations. Thanks RTCSA.
Safe training and to a high standard
Thank you to RTCSA for their on going support. Darren at RTCSA has been a massive help to SA Water, training all our new staff. I would highly recommend this company to anyone looking at being trained safely and to a high standard.
We loved that RTCSA come onsite and that training was completed with our machines and the equipment that we are familiar with and will be using in the future. Thank you RTCSA.