Frequently Asked Questions (FAQs)
Please see below for a list of our most FAQs
What is a registered training organisation?
A registered training organisation (RTO), is an entity registered to deliver nationally recognised qualifications. RTO's must meet criteria defined in the Standards for Registered Training Organisations (RTOs) 2015, and are audited against the criteria regularly.
Regional Training Contractors of South Australia are a business service with accredited trainers, who are aligned with registered training organisation, APS Training Group, #31588.
All nationally recognised training RTCSA delivers is on behalf of APS Training Group. All certification for this nationally recognised training is provided by APS Training Group.
Where does RTCSA deliver training?
RTCSA are an onsite training service. We deliver training to worksites throughout:
South Australia (all regional areas), including: Ceduna, Port Lincoln, Roxby Downs, the Riverland, the Barossa Valley, Mount Gambier, etc. Victoria (Western), including: Mildura, Echuca, Bendigo, Ballarat, Horsham, Portland. New South Wales (South-Western), including: Broken Hill and the Riverina areas.
Does RTCSA travel to remote locations?
We deliver training in regional areas based on demand. We invite you to discuss your needs by calling us on 0417 725 339 or emailing us at courses@rtcsa.training.
Does RTCSA offer online courses?
No. The majority of our training requires face-to-face assessment. We do have options for self-paced learning conducted via email; however, the practical component of your course will require a booking with a trainer to attend your worksite.
In some situations, a remote practical assessment at your workplace can be arranged. This is undertaken under the supervision of a competent person via video conferencing, video recordings and email.
This will be discussed with you upon your training enquiry.
How do I book a course?
Training enquiries can be made via the training request button on this website, or by emailing us at: courses@rtcsa.training, or by phoning: 0417 725 339.
As soon as your request is received we provide you with relevant course information, a quote for services, available dates for training, and a registration and training venue form. If you decide that yes, you do wish to proceed with this training, simply complete the registration and return back to us. And 'Voila!' your training is booked.
What is the cost of training?
The amount and type of fees and charges payable will depend upon a number of instances, including, but not limited to: the qualification or unit of competency being undertaken; the location of training, participant numbers, and machine availability. Training quotes are provided at the time of enquiry.
Do I pay before or after training?
Invoices are provided on receipt of your registration form, and payment is required prior to training unless otherwise arranged.
We do accept purchase orders during the registration process, however, accreditations are not issued until full payment has been received. To ensure staff receive their accreditations back as quickly as possible, we highly recommend payment prior to training, or as soon as possible upon completion.
Where pre-payment has been made, participants who successfully completed the course, are issued with an Interim Authority Notice immediately after training. This notice is valid for 21 days from the day of training, whilst they await their full accreditations by either post and/or email.
What do I need to bring to training?
PROOF OF IDENTITY – All participants undertaking training are required to provide a form of photographic identification – such as a driving licence or passport.
USI NUMBER – Participants undertaking nationally accredited training will need to provide us with their USI number. From 1 January 2015, everyone undertaking accredited vocational education and training must have a government-issued Unique Student Identifier (USI) in order to receive their Statement of Attainment (certificate). For more information about applying for a USI, please visit www.usi.gov.au
PPE – Personal protective equipment requirements are listed in the course description and also in the course confirmation sent out upon receipt of your registration.
How long will my course take?
The anticipated course duration is listed on the course description you receive upon your enquiry. This is an approximate figure of the anticipated time it would take for a participant to gain competence. Training, however, may take more or less time than the prescribed hours.
The time taken to complete your course could be influenced by any of the following:
the course that is being undertaken
the number of other participants also completing the training alongside you,
the number of machines in operation (in the case of plant assessments)
the skill and knowledge you already hold with regards to the training currently being undertaken.
How soon after training do I receive my certification?
We state that certification documentation is issued within 14 calendar days of participants having been assessed as successfully completing their training course, (provided that fees have been paid in full and student details, including USI numbers, have been verified) … however, our aligned RTO, APS Training Group, is extremely quick, and certification is normally issued within a day or two! (Again, provided that payment has been received, and student details verified).
Where there is an urgency for participant certification we ask that you advise us prior to training so we can ensure an Interim Authority Notice can be issued immediately after the participant has successfully completed the training. (This is only available for pre-paid training).
For corporate accounts or group bookings, certification is emailed to the training coordinator and cards are posted to the workplace.
Can the training be personalised to meet our work obligations?
Yes, our courses are tailored to suit your needs, whether this is based on:
Your specific location.
Your particular line of work.
The availability of your work staff.
What is the difference between a Duty of Care plant ticket and an RII Plant Operator card?
A Duty of Care card is a non-accredited training card that demonstrates that a participant has safely operated whatever class of machinery – ie Skid Steer (LS); Backhoe (LB), etc., they were assessed on. Assessments, completed by a competent person or organisation, are predominantly based on the old NOHSC 7019 (1992) standards.
An RII Mobile Plant Operator card is given to an individual upon successful completion of a nationally accredited unit of competency. These are nationally recognised qualifications or units that have been developed for the Resources and Infrastructure Industry. Training can only be provided by a registered training organisation. RII units are based on competency to current industry standards. They are recognised THROUGHOUT Australia.
How do I know if I have a Duty of Care ticket or an RII card?
Does your card have the Class listed, ie (Excavator LE, Skid Steer LS, Dozer LZ, etc) and wording typically along the lines of: issued in accordance with the NOHSC standard [NOHSC: 7019 (1992)]?
If so, this is a Duty of Care ticket: see an example below: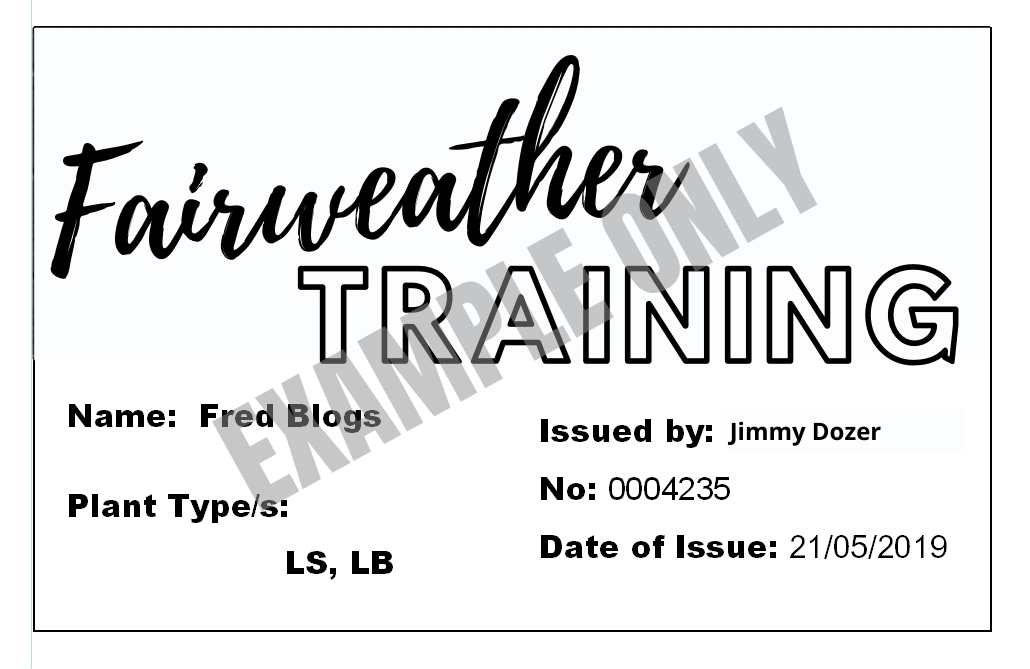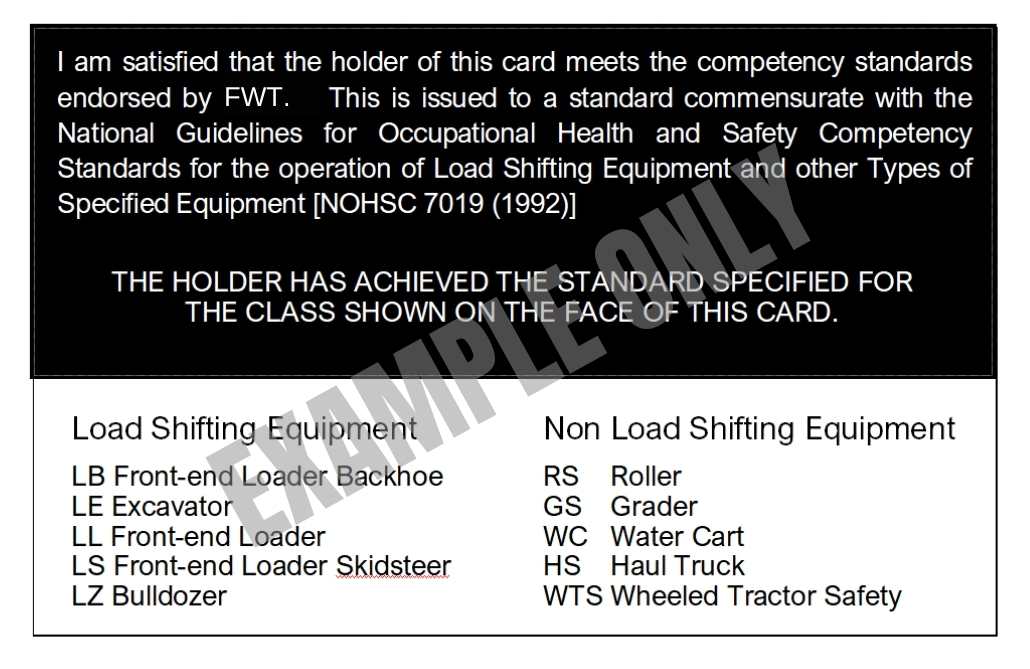 An RII Mobile Plant Operator Card contains the unit course code, the registered training organisation's (RTO's) provider number, and quite often the Nationally recognised Training (NRT) Logo. See an example below: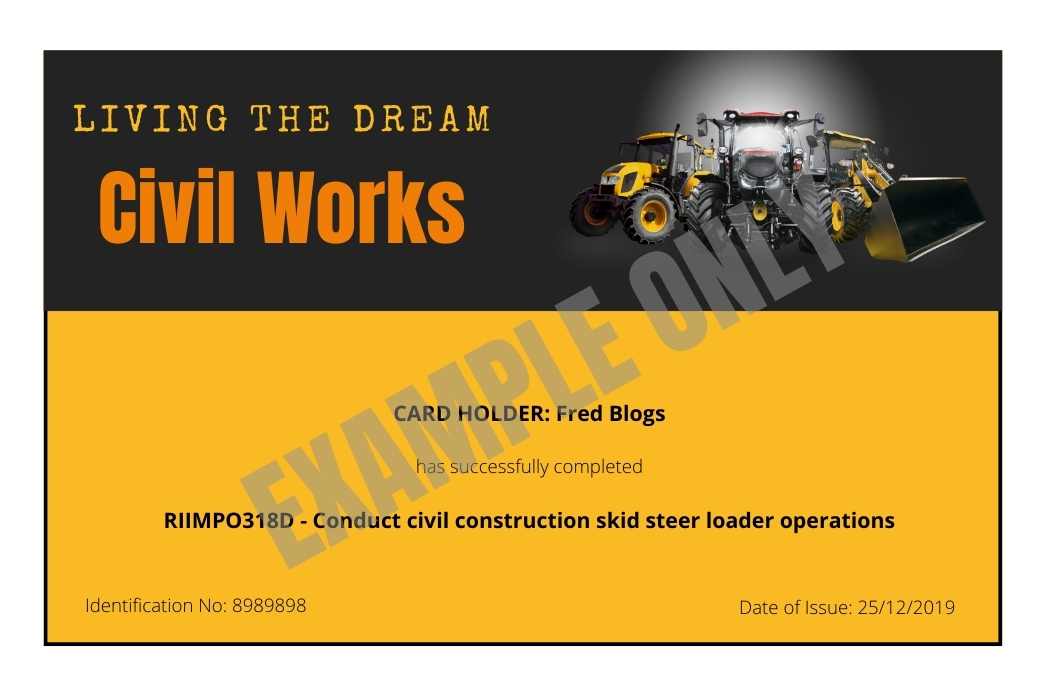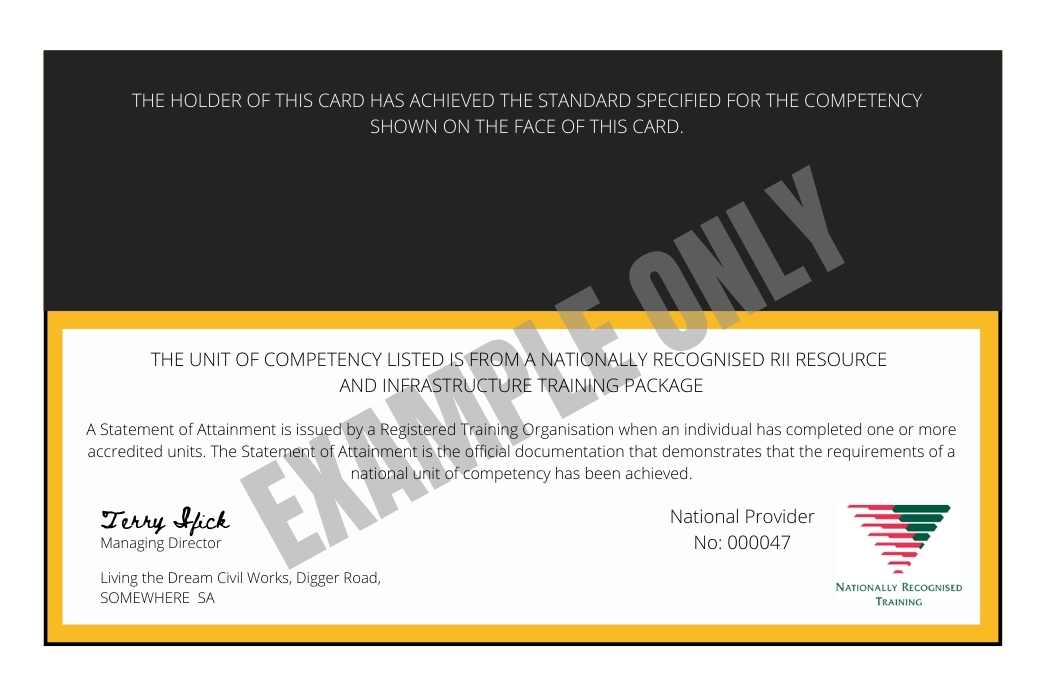 If you undertook your training after January 2015, you can also determine if you hold the RII by whether it is visible on your USI transcript. (www.usi.gov.au)
If you cannot find the answer to your query in our most FAQs above, please don't hesitate to give us a call or send us a line!
OUR VALUED CLIENTS INCLUDE: